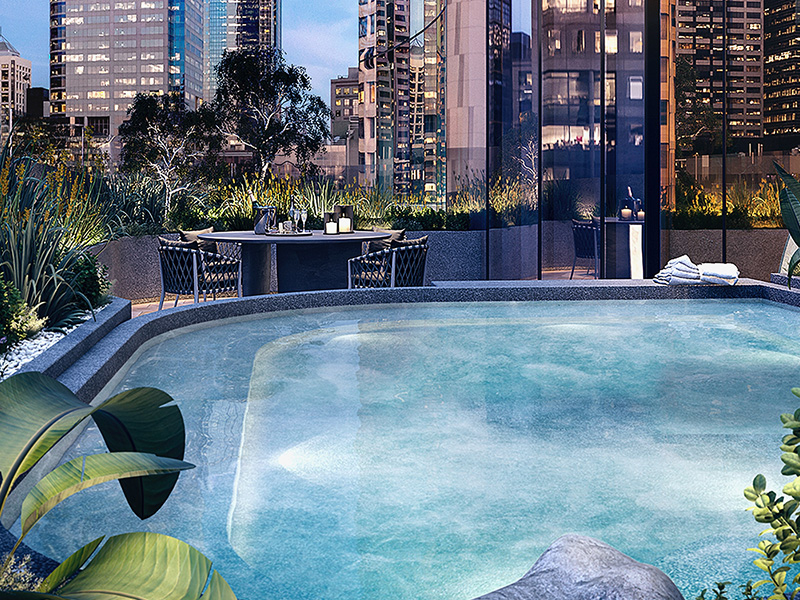 Leading property news publication The Urban Developer have rounded up the top 15 major development projects happening in Melbourne, with Aspire Melbourne making top of the list.
Despite the crippling economic impacts of the recent coronavirus outbreak and the uncertainty hanging over the nation's property sector, Melbourne remains the midst of a development boom.
Australia's fastest-growing city looks set to press ahead with major projects as construction sites across Victoria remain exempt from the stage two business shutdown.
Based on current growth rates, Melbourne is set to overtake Sydney as the nation's most populous city by 2026, placing growing strains on infrastructure, tenable office space and housing.
The Victorian government has more than doubled infrastructure spending—committing $47 billion and more than $10 billion promised over each of the next four years, in a bid to build for the expected population of 8 million by 2050.
From Australia's tallest building to the city-shaping metro tunnel and premium high-rise commercial and residential towers, here are Melbourne's major development projects.
West Side Place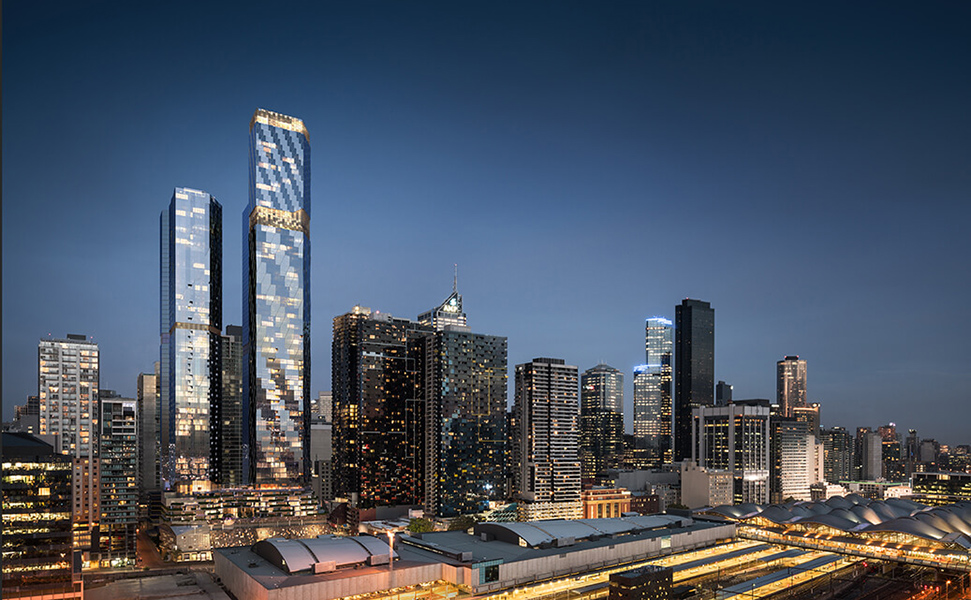 Hong Kong-listed developer Far East Consortium is pressing ahead with two towers in the developer's West Side Place project at 250 Spencer Street on the former The Age site.
The 81-storey Tower 1, which will house the Ritz-Carlton, will be 281 metres tall and once complete will be the tallest hotel in Australia, while the 64-storey Tower 2 will be 221 metres.
Construction has already commenced on West Side Place, with apartment amenities having been installed up to level 24 at Tower 1 and level 23 at Tower 2.
Residential amenities are also beginning to take shape with fit outs commenced for the pool, gym, cinema, karaoke room and virtual golf rooms.
Once complete the project will comprise 1,376 apartments and 257 luxury hotel suites, with Stage 1 anticipated for completion in 2021.
Key facts:
FEC bought the site from developer ISPT in 2012 for $75 million.
The Cottee Parker design for the site was approved in 2014.
The project is being built by Probuild.
The residential development offers one, two and three bedroom apartments.
Over 3,000sq m of ground floor retail space.
Aspire Tower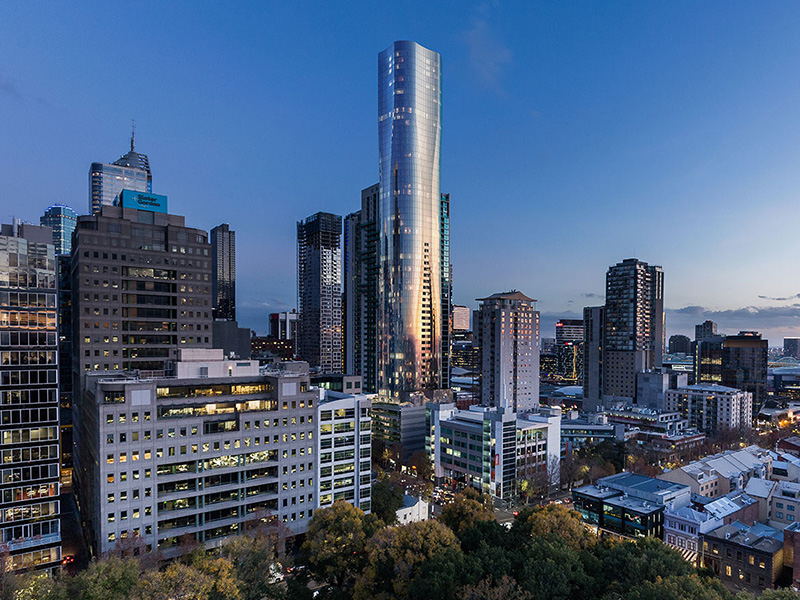 ICD Property Group is developing its 65-storey high-rise residential tower at 299 King Street with joint venture partner financier MaxCap, which has both debt and equity positions on the project.
ICD secured construction funding for the Elenberg Fraser-designed tower from American investment bank Goldman Sachs for the $440 million high-rise tower.
The 594 apartment development, ICD's second central city residential development in Melbourne, is located opposite Flagstaff Gardens on King Street.
Early works commenced late last year with construction anticipated to take about three years to complete.
Key facts:
Designed by Elenberg Fraser.
The project is being built by Melbourne-based builder Hickory.
The project comprises a mix of one, two, and three-bedroom apartments.
435 Bourke Street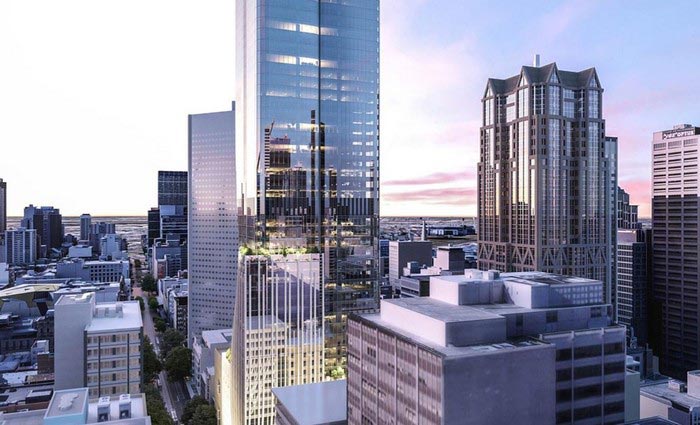 Late last year, Cbus Property won endorsement from Melbourne's city planners for a $1 billion-plus office tower which straddles four addresses around the corner of Bourke and Queen streets.
The 59,000sq m office tower will reach 49-storeys and will be one of the first buildings to be approved under the Victorian government's C270 amendment.
Demolition of the site's existing infrastructure has commenced, with construction completion slated for 2023.
Key facts:
The project is designed by Bates-Smart.
Floorplates range between 1,300 and 1,700 square metres.
Cbus is targeting a 6-star Green Star rating, 5.5-star NABERS Energy rating and a Platinum WELL rating.
Melbourne Metro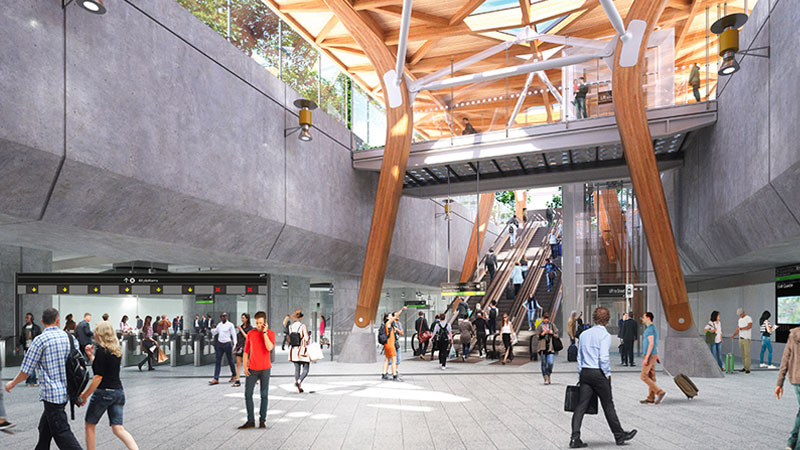 The new $11 billion Metro Tunnel, a twin nine kilometre rail tunnel running through Melbourne's central business district from South Kensington to South Yarra is being delivered by the Cross Yarra Partnership comprising Lendlease Engineering, John Holland, Bouygues Construction and Capella Capital.
The upgrades will enable more than half a million extra passengers to use Melbourne's rail network during peak periods every week, and save people up to 50 minutes each day during their commutes.
The project includes five new underground stations, North Melbourne, Parkville, State Library, Town Hall and Anzac, with designs drawing on each locations local character in their design and layout.
The transport project was earmarked to be completed by 2025, however, costs have been rumoured to already have blown out by as much as $2 billion, partially due to the scope of the project being widened and unexpected technical risks.
Key facts:
Early works commenced in 2016.
New stations have been designed by Hassell in collaboration with Weston Williamson and London-based Rogers Stirk & Harbour and Partners.
Queens Place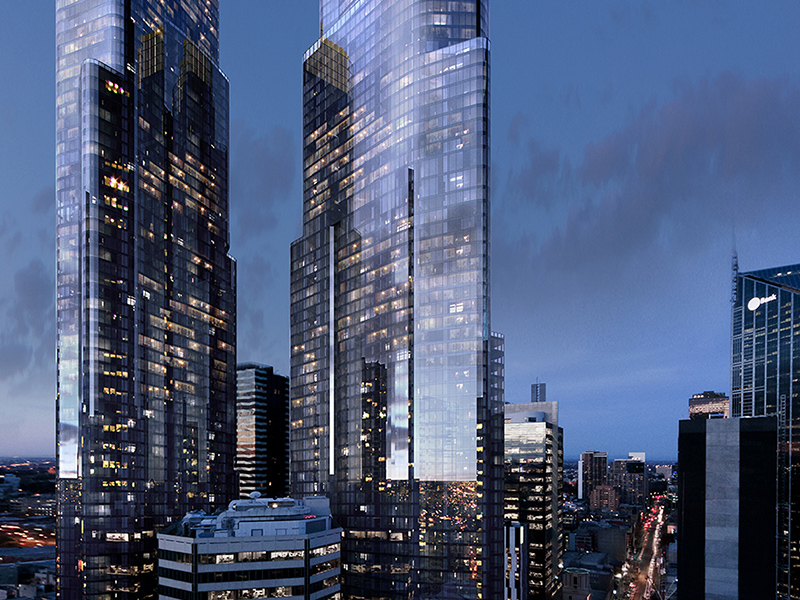 Chinese-backed developer 3L Alliance is well under way with the construction of its $1 billion-plus twin tower project at the edge of Flagstaff Hill.
The major development project, located at 350 Queen Street, will comprise 1,800 apartments in twin 79-storey towers, making it one of the largest residential developments in the city.
The towers will feature retail and commercial office suites, a public plaza with a laneway shopping precinct, restaurants and cinemas.
Construction commenced in late 2018, to be delivered in two stages, the first is the tower to north of the site, which will then be followed by the southern tower. Completion on track for the second quarter of 2021.
Key facts:
3L Alliance acquired the massive site for $135 million in 2014
The project is being built by Multiplex
Designed in collaboration by Cox Architecture and Fender Katsalidis Architects
To view the full list of 15 please visit the original article sourced from The Urban Developer.
Lifestyle
Explore the stories.