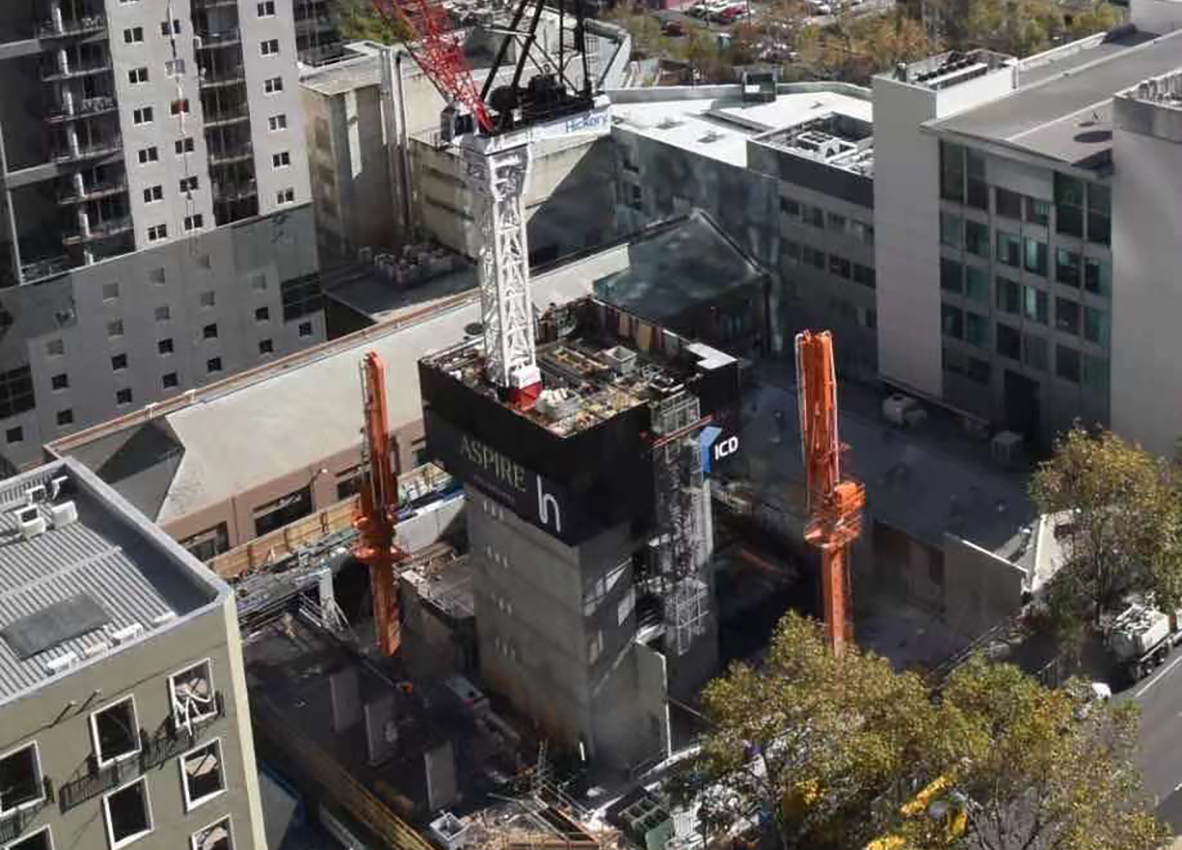 Following completion of basement carparking and ground levels, Aspire Melbourne is now beginning to build the first floors of the soon to be 65-storey tower.
In our last construction update we reported that Aspire Melbourne's basement level concrete pouring commenced, the building's core started to take shape, and the project's crane came on site to help build the tower out of the ground.
Since then, developers ICD Property and MaxCap Group, and builders Hickory, have worked passionately to make progress with the full completion of the core lift's construction from the ground floor mezzanine up to level four!
Basement and ground floor concrete slabs have also been poured and set with structural formwork currently underway to support the engineering integrity of the building from the ground floor mezzanine up to level one.
Excitedly, we can report that several delivery shipments containing materials such as the curved glass façade that makes up Aspire Melbourne's elegant exterior, are due to arrive soon.
Aspire Melbourne's sculptural glass façade has been uniquely designed by award-winning architects, Elenberg Fraser, renowned for their distinct portfolio of tasteful towers in major international cities across the globe. The façade design has been celebrated for its high performing qualities while ensuring maximised view lines to each of the 565 apartments.
Aspire Melbourne's impressive construction progress means the project remains on track for the first lot of staged settlements (including all 78 apartments across levels one to eight) to occur in February 2022.
Since starting construction in early 2020, Aspire Melbourne has been positively recognised in the industry for its unhindered performance despite tough market conditions brought on by COVID-19. The expertise of Aspire Melbourne's delivery team, combined with Australia's position as a global leader in its response to managing the COVID-19 pandemic, gives great confidence to the project.
Melbourne's recent property boom also further signifies Australia's strong economic recovery from COVID-19 and long-term security with the remainder of 2021 and 2022 predicted to see strong sales in Australia's property market.
Lifestyle
Explore the stories.